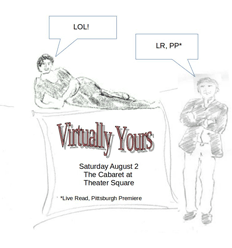 Virtually Yours: A Comedic Road Trip for the New Millennium
Skip to get tickets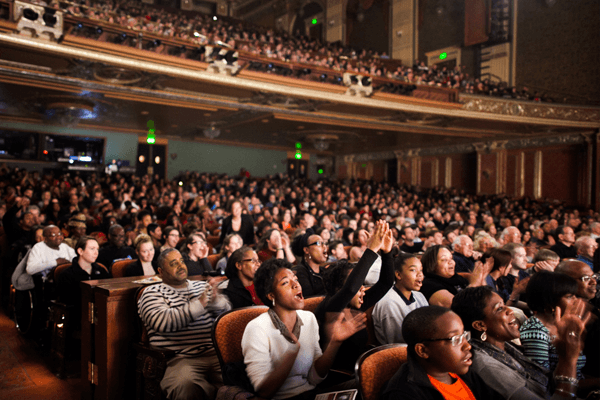 Virtually Yours: A Comedic Road Trip for the New Millennium
Sat, Aug 16, 2014, 10:00pm
Pittsburgh Cultural Trust
Greer Cabaret Theater

Ticket Prices

$10 at the door
On August 16th, the Cabaret Theater in Pittsburgh will present Virtually Yours. Inspired by the screwball comedies of the 1930s, the show provides a fresh take on finding love in the age of celebrity and social networking. Diane Williams, entitled heiress and member of the one-percent, runs away from her wealthy software industry CEO father to marry Alex Larson, a media celebrity and reality show star. On the way she meets Greg Mason, an ex-newspaper reporter and aspiring social media guru. As the two travel together, Mason is determined to exploit the celebrity couple's story for his own ends. Hijinks ensue when he and Diane fall in love.
The show will appeal to Gen Y, Gen X, Baby Boomers and anyone else navigating romance and relationships in the New Millennium. Can true love prevail over wealth, rude behavior and fifteen minutes of fame?
The play is written by local writer and performer Chuck Lanigan. Lanigan has written and performed with Future Tenant and Arcade Comedy Theater in Pittsburgh. In 2013 he received a Pennsylvania Partners in the Arts (PPA) award through the Greater Pittsburgh Arts Council to present The Thin Man Comes to Pittsburgh live radio.
Late Night Cabaret Details
Tickets may be purchased at the host desk prior to the event. We're sorry, but advance purchase is not available for late night presentations. Theater doors for Late Night shows open at 10PM, but you may arrive earlier and enjoy happy hour in the Backstage Bar. Our online menu is available here. If you have any questions, please call our host desk at 412-325-6769.
We offer free Late Night admission to ticket holders of any earlier Cultural District show - simply show your ticket stub from an earlier show to enjoy Late Night at no charge (same date only / select shows / based on seating availability).
[Please disregard the "Venue Details" information below; it is for CLO Cabaret main stage performances only.]
21+ only admitted.
Accessibility:
For personal assistance selecting accessible seats or for more information about accessibility for a person with a disability, please contact Customer Service at 412-456-6666
655 Penn Ave




Pittsburgh

PA

15222

Box office phone: 412-456-6666