Stewards of Beer...aka Beer Geeks.....will be joining us for a fun, relaxing evening of beer tasting and talking. Light appetizer fare is included. Hosted by Tony "The Beer Man" Knipling of Vecenie Distributing, this is one class you won't want to skip. Class is followed by a Q&A session and great door prizes. Doors open at 5:45pm. Have fun and make some new friends who share a desire to learn more about Craft Beers.
Venue Details
The Cabaret at Theater Square
655 Penn Ave | Pittsburgh, PA | 15222 |
Directions
---
Enjoy food & drinks before the show, right at your table! Your ticket is your reservation - simply arrive early (60-90 minutes before curtain) for the most attentive lunch or dinner service. For our menu and more information, go to
CLOCabaret.com
and select "Experience the CLO Cabaret."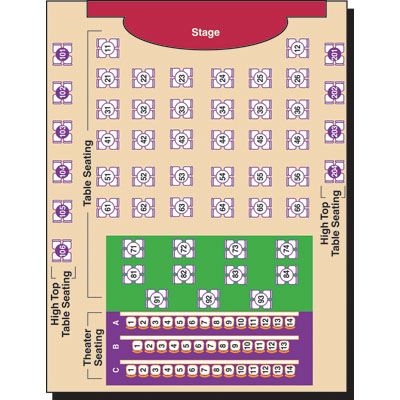 The Cabaret at Theater Square has two types of seating, round tables of 4 and theater style seating in the back of the theater. While patrons will purchase tickets to a specific table, the seating at the table is first come, first served. The theater style seating is reserved seating for a specific seat. In front of the stage are five rows of tables of 4. Each row consists of 6 tables. The first row starts with table 21 on the left and then goes across numerically to the right to table 26. The second row begins with table 31 on the left and then goes across numerically to the right to table 36. This pattern is repeated in consecutive rows with the third row beginning with table 41, the fourth row beginning with table 51 and the fifth row beginning with table 61. Behind these five rows are three additional rows of tables, which seat 4. They are elevated on a platform 7 inches high. The first row on the platform consists of four tables beginning on the left with table 71 and going across numerically to the right to table 74. The second row consists of four tables beginning on the left with table 81 and going across numerically to the right to table 84. The third row consists of three tables beginning on the left with table 91 and going across numerically to the right to table 93. On the left and right of the theater are high top tables which seat 4. On the left of the theater are six high top tables starting at the front of the theater with table 101 and going back numerically to table 106. On the right of the theater are four high top tables starting in the front of the theater with table 201 and going back numerically to table 204. In the rear of the theater behind the platform seating are three rows of theater style seats. The rows are lettered beginning with Row A in the front and then going back alphabetically. The seats are numbered beginning on the left with seat 1 and going across numerically. Row A and C consist of 14 seats. Row B consists of 13 seats
Seating Chart Description
Accessible Services